Description
Impact is hiring a B2B Sales Manager specialized in technology solutions for our Nationally ranked Best and Brightest Workplace!

The Sales Manager will oversee a high performing team of sales experts who focus on evaluating prospective clients with discovery, analysis, and ultimately recommendations of strategic solutions for the prospective client. These solutions will leverage Impact's Managed Services to address the core challenges and objectives that are uniquely identified for each customer. As a Sales Manager you will drive your team to:

Solve Business Problems - Conduct discovery with clients to identify business problems as is pertains to IT, Cyber Security, Digital Transformation and Marketing. Translate into a recommendation that ties together the solution and the value to the organization.
Drive Innovation - Bring precision to a client's decision-making process by presenting and evaluating solution options and aligning key stakeholders.
Become a Trusted Business Advisor - Demonstrate through storytelling and our Business Transformation Assessment how addressing business challenges, providing solutions for these challenges and future proofing an organization is possible through a long-term partnership. This includes but is not limited to the delivery of executive-level presentation and demonstrations and construction of a long-term Digital Transformation business roadmap.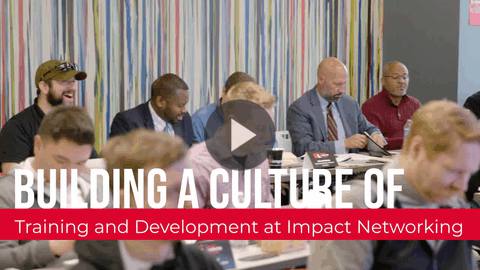 - Manage a team that will sell all Impact's services through a consultative approach. Services include:Managed IT & Cybersecurity
- Digital Transformation Solutions
- Managed Marketing
- Managed Print Services
- Develop and execute strategic sales plans to achieve or exceed sales targets and revenue goals.
- Provide guidance, coaching, and mentorship to the sales team to enhance their performance.
- Identify and pursue new business opportunities in the IT and cybersecurity sector.
- Build and maintain strong relationships with key clients and strategic partners.
- Collaborate with the sales team to promote and sell IT and cybersecurity solutions, including managed services, software, hardware, and consulting services.
- Conduct thorough needs assessments and propose tailored solutions to clients.
- Stay updated on the latest technology and cybersecurity trends and incorporate them into the sales strategy.- Develop a deep understanding of client needs and market trends
- Meets or exceeds budgeted revenue, gross profits, and expense goals
- Reviews each month's performance and revises goals accordingly
- Manage accounts and design appropriate solution based on clients' needs
- Present the Impact value proposition to decision makers with Account Executives
- Write proposals and negotiate terms of contracts with sales reps
- Coach Account Executives to build long-term relationships with clients
- Conduct one-on-one review with all Account Executives to build more effective communications, to more clearly understand training and development needs and to provide insights to each individual as to how to improve his/her sales and activity performance
- Provide timely feedback to the general sales manager/VP of Sales regarding individual Account Executive activities/ performance and sales forecasts
- Provide to general sales manager/VP of Sales and corporate end of the month reports that clearly communicate the final results

What employees get out of a career at Impact
- A clear path of career advancement and upward mobility based on transparent performance benchmarks
- Mentoring from industry leaders
- Transparent communication of financial goals and results
- Recognition and promotion based on performance
- Thorough training for confident, empowered quick-minded in-field decisions
- Open-door policy encourages direct interaction with C-level colleagues
- Work with a winning team—Impact is largest independent business process optimization solutions provider in the Midwest
- Competitive compensation plan, including base salary plus commission
Professional Development
Professional development and education are staples of the Impact culture, as evidenced by the conception of the Impact Leadership Institute (ILI). Through the specialized Learning and Development Department comprised of industry thought-leaders dedicated to employee enablement – Sales Professionals are enrolled in an industry leading 18-month Consultative-Sales and Solutions Program. Classroom instruction begins at onboarding with an extensive and rigorous one-week course called Foundations, in which Sales Executives learn go-to-market strategy, solution portfolio, objection-handling and prospecting techniques. In conjunction, new Sales Executives receive one-on-one field mentoring, online class certifications, eLearning modular trainings, and team assimilation within their first 30 days.
Over the duration of the Program, the ILI facilitates 1:1 Wellness Checks, Refresher Workshops, and advancing Sales Courses for Sales Professionals to accelerate sales process mastery, sales skills, solution and industry expertise to springboard them to their highest potential. In years following, they will receive ongoing technical certifications and partake in high-level strategic collaboration workshops.

Things We Are Looking For
The ideal candidate will be be passionate about the ever-changing landscape of technology, possess a strong understanding of IT, Cyber Security, and other technology related solutions and demonstrate strong leadership skills.
Desired Skills
- 3-5 years of sales management experience preferred
- Experience in a consultative and full cycle sales environment preferred
- Previous sales experience in IT, Cyber Security, technology or Digital Transformation sales preferred
- College Degree preferred
- Strong leadership skills
- Strong communication skills
- High degree of self-motivation
- Ability to work under pressure
- Ability to work on your own initiative and as part of a team
- Results oriented
Benefits
- 20 days of PTO
- 12+ paid holidays
- Flexible Sick Day Policy
- Paid Parental Leave
- Comprehensive Health, Disability Life, Dental and Vision Plans
- Discretionary 401(K) match & retirement plans
- Continued education reimbursement
- On-going training & development opportunities

If you are passionate about technology, possess a deep understanding of IT, Cybersecurity, and related solutions, and are ready to take on a leadership role in a dynamic and rewarding environment, we encourage you to apply.

#LI-Onsite